The 1850 House Inn & Tavern History
With the discovery of "gray gold" (natural cement limestone, later called Rosendale cement) in Rosendale in 1825, the town exploded with eateries, shops and, of course, hotels.

The 1850 House Inn & Tavern in Rosendale, New York has been a hostelry
under a variety of names since it was first constructed in about 1850:
1850: Central Hotel
1898: O'Hara's Hotel
1910: Hotel Bonnie Doon
1920: The Hoffman House
1934: American Hotel
1920: Garden Inn
1935-1941: Joe Hill's Hotel
1940s-2011: Astoria Hotel
2012: The 1850 House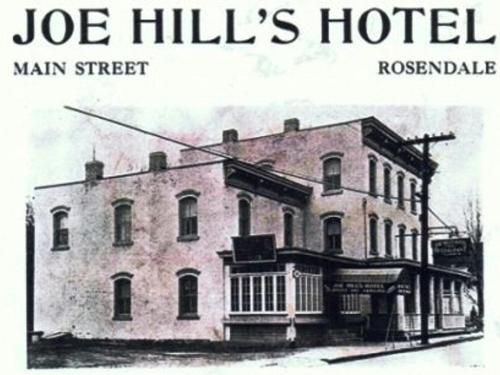 In the 1940s the building was renamed the Astoria Hotel.
There have been only two 3-story brick buildings on Main Street, Rosendale. The building shown in the stereograph view below, Davis & Veeders, later known as Reed's, burned-down in the 1960s and now is the empty lot west of the barber shop operated by Bill Brooks. The other 3-story brick building was the Astoria Hotel, now The 1850 House & Tavern. [A stereograph view of Davis & Veeders from the Century House Historical Society Natural News Fall 2007]
Sue Dorsey and her husband Mark Morganstern first took over a small sandwich shop, Tea and Foibles, in the Astoria Hotel. Then, when the building across the street became available in 1992, they moved there and opened the storied Rosendale Café. [The Daily Freeman]
Until February of 2001, the Astoria Hotel also housed several town offices, when they were moved to the "first floor of the former Curran Law Offices on Main Street to house the town assessor, building inspector and zoning and planning offices.... Town officials have outgrown their current space at the Astoria Hotel just down the street and will move into the new building." [The Daily Freeman]
In the 1980s the hotel was operated by French-born Jeanine Gleissner as a B & B. "I found the sign," Mrs. Gleissner explained, "when I bought the building, and I liked the way it sounded so I hung it up." Guests, said the New York Times, "could eat Mrs. Gleissner's splendid breakfast in their rooms, on the porch, where bright striped cloths and hanging plants remind visitors of a hundred French pensions...." [The New York Times]
That Astoria Hotel neon sign hung over the doorway for years, but don't look for it now — it's been replaced.
Under the management of Michael Ruger, The 1850 House & Tavern has resumed its former glory with room accommodations.
Please see our Photos Page for more images on our history.